News
Uncategorized
Awards
Top news
TS4.0 participates in the 4th edition of the digital innovation in healthcare award of patient associations
Health of the present. Health of the future Without the first, there can be no second.  And how does one manage to assess whether an innovation is effective for the development of a health care system that, on the one hand, pleases patients and, on the other hand, is strategic and essential for health care providers as well? This is what the more than 40 patient associations sponsoring the Patients' Digital Health Awards, organized by the Digital Health Academy with the support of the MSD Foundation, are asking themselves for the fourth year.
The award allows to discover the best innovative projects capable of responding to the goals set by the PNRR – National Recovery and Resilience Plan, which enshrines how innovation and digitization are now key ingredients for the development of healthcare and aims to foster a systemic and participatory transformation of our SSN (national health system).
The fourth edition of the award, in particular, will reward projects implemented, or in the process of being implemented, that
1. enhance the home as a "first place of care"
2. have been designed to meet the needs of young people
3. facilitate inclusion (professional, social and research).
TrentinoSalute4.0, which has also participated in previous editions of PDHA, was awarded in 2020 as the winner of the "Covid-19 Solutions" category with the TreC Televisita Pediatrics platform, developed in collaboration with pediatricians and, for the remote visiting part, co-funded by the Foundation for the Enhancement of Research in Trentino (VRT).
The innovations proposed by TS4.0 demonstrate that a "people-friendly" digital transformation is possible, improving quality of life and boosting the development of care tools for patients suffering from an illness or being cared for by their caregivers
Once again this year, the PDHA jury of more than 40 Patient Associations and digital health experts will have to evaluate the best digital health projects. The deadline to participate in PDHA22 is April 20.
Innovative digital  health solutions (already implemented or in the process of being implemented), including wearable apps and technologies, virtual reality and augmented reality tools, home automation systems, Big Data, Blockchain, social media, instant messaging systems, artificial intelligence and IoT, sensor technology, telemedicine platforms, digital health, and narrative medicine, can be proposed on the pdha.it website.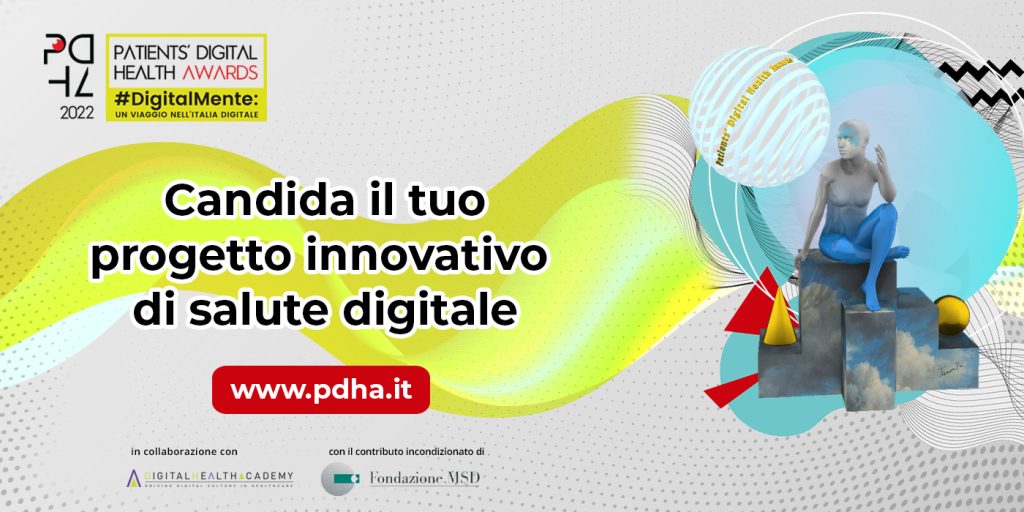 PDHA2022: a journey through Digital Italy
The journey of the PDHA22 award together with the Patients' Associations through digital Italy includes several stages: in May there will be a first screening phase in which 9 projects will be selected (3 representing Northern Italy, 3 for the Center and 3 for the South and Islands) that will have the opportunity to participate in local roadshows – occasions for meeting and exchange between innovators and the Patients' Associations in the jury. Afterwards, 3 finalists – one for each roadshow – will be selected to compete for the final prize. The winner will be announced during the awards ceremony scheduled for June 2022.
Projects eligible for the competition must address one of the following topics:
Access to information about therapies and/or care centers;
 Care process (care plan, service booking, clinical document management);
Physician-patient relationship (consultations, virtual visits, messaging, narrative medicine, PROMS/PREMS);
Mental, social support (sharing the disease with other patients, mental health support) and financial aid;
Adherence to therapy
Therapy management support:
Monitoring and coaching to improve lifestyles;
Tools to facilitate physical exercise and physical therapy (remote rehab);
Remote monitoring and telemedicine
Share on Facebook
Share on Twitter
Share on Pinterest